SPIRIT LEVEL VIALS

Level vials are typically referred to as spirit level vials or bubble level vials. The name 'spirit level' comes from the liquid inside the level vial. Traditionally, this liquid was a mineral spirit solution with additives to give the vial its color, protection from ultraviolet (UV) fading in sunlight and freezing in the cold. The yellow-green color was chosen because this is the central range of color that is most visible to the human eye under all lighting conditions.
All spirit level vials available in stock sizes or custom made to your specifications.
Please provide the following information for a quote for your custom vial:
Material choice: acrylic or glass
Shape: tubular, block, arced, circular
Dimensions: length, diameter
Color of fluid: clear, green-yellow, red, blue (Not all color choices available in all styles.)
Sensitivity
Optional Case / Housing
Quantity
*Additional information concerning these choices is detailed in the descriptions below
---
ACRYLIC SPIRIT LEVEL VIALS:
Acrylic level vials provide significant cost savings over glass vials.
Sensitivity up to 5″/2mm
Types:
Straight Tube – Straight tube exterior with barrel-shaped interior.
Block – Used in vertical and horizontal applications.
---
GLASS TUBULAR SPIRIT LEVEL VIALS:
Also referred to as Ground Vials.
Available as ARC bent glass or straight.
High hardness glass, high transparency.
Metallic or adhesive seals insure strength and durability.
With or without tips.
Types:
High precision glass tubular vials. Borosilicate glass. Sensitivity from 2″/2mm – 20″/2mm
General precision glass tubular vials. Soda lime glass. Sensitivity from 20″/2mm – 90″/2mm
---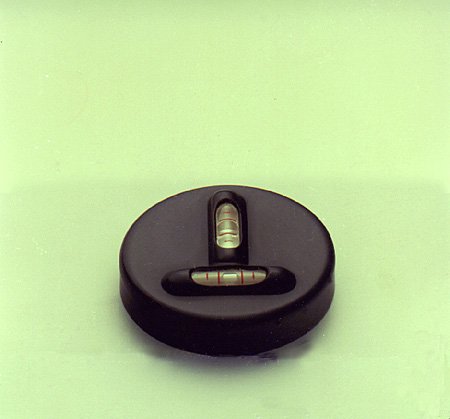 CIRCULAR SPIRIT LEVEL VIALS:
Glass or acrylic
Diameter: 9mm – 25mm
With or without tips.
Sensitivity: 5′ / 2mm – 90′ / 2mm
Options Include: mountable housing, flange, threaded stem.
---
APPLICATIONS: frame leveler, bar level meter, imaging level meter, leveling instruments, laser instruments. photoelectric instruments, electronic balance, theodolite, compass, tripod, machine tools, electronic scale, etc.
---
SENSITIVITY:
Sensitivity is an important specification for spirit levels as it determines the overall accuracy. The sensitivity is determined by the radius of curvature within the vials. All spirit level vials contain this curved radius, even though it cannot always be seen. This curvature allows the bubble to move to the highest point of the radius due to gravity's force on the liquid in the vial. The sensitivity is directly related to the radius of curvature of the vial; the longer the radius, the more sensitive the vial will be.
Accuracy/sensitivity can be notated in different ways. The most common notations are millimeters per meter or inches per foot. Accuracy stated as 0.5 mm/m means that for every meter of measured length, the level will be most accurate until it reaches +/- 0.5 mm from absolute level. This is comparable to the thickness of a human hair which measures between 0.2 and 1.8 mm.
Changing a level vial's sensitivity is achieved by adjusting the shape of the vial. The curvature of the vial can be looked on as a sector of a bigger circle whose radius determines the amount of curve and therefore the level of sensitivity. This can be explained in terms of the pitch required in arc minutes to move the bubble 0.100″ (one-hundred thousandths of an inch), and can be thought of in terms of degrees. There are 360° in a circle, 1° has 60 arc minutes (60′) and each arc minute has 60 arc second (60″). A larger radius means that the bubble can move more easily and react to smaller movements.